Grass Seed Mixtures
Highly Reviewed by Real Farmers

Give Your Cows What They Like to Eat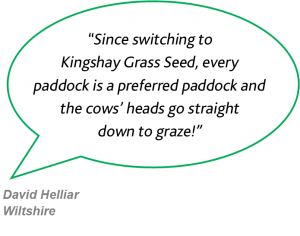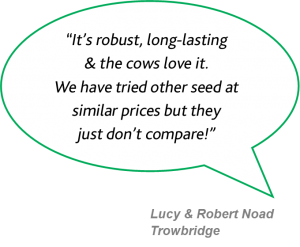 Save Money & Reduce Waste With High
QUALITY Mixtures
Unlike many suppliers we are not aligned to a specific grass seed breeding company, allowing us to select only the best varieties to help improve your output from forage - both grazing and silage swards.
Kingshay supply a wide range of seed mixtures to suit your enterprise.
Choose from:
Short Term, IRG, Hybrid & Red Clover
Quality Silage Mixes
Preferentially Grazed Mixes
Organic Seeds
Use our handy guide to decide what the best mix is for you.
Our team can offer independent advice and mixture guidance to help you get the best for your farming business.
To discuss your needs and get our best prices, including our 5% off for orders over 25 acres, please give us a
call on 01458 851 555 or email contact.us@kingshay.co.uk
SHORT TERM MIXTURES (Italian and Hybrid Ryegrass)
| | |
| --- | --- |
| Mix S1 - 1 year, catch crop & after maize | |
| Mix S2 - 1-2 year IRG | |
| Mix S3 - 2-3 year Hybrid IRG | |
| Mix S4N - 3-4 year Hybrid PRG | |
| Mix S4C - 3-4 year Hybrid PRG + Clover | |
 LONG TERM MIXTURES with WHITE CLOVER
| | |
| --- | --- |
| Mix GEC - Early Grazing Mix with Clover | |
| Mix GLC - Preferred Grazing Mix with Clover | |
| Mix SEC - Early Silage Mix with Clover | |
| Mix SLC - Preferred Silage Mix with Clover | |
LONG TERM MIXTURES without CLOVER
| | |
| --- | --- |
| Mix GEN - Early Grazing Mix no Clover | |
| Mix GLN - Preferred Grazing Mix no Clover | |
| Mix SEN - Early Silage Mix no Clover | |
| Mix SLN - Preferred Silage Mix no Clover | |
RED CLOVER MIXTURES
| | |
| --- | --- |
| Mix RC - 2 year red Clover | |
| Mix RW - 3 year red and white Clover | |
OVERSOW MIXTURES
| | |
| --- | --- |
| Oversow Mixture + Clover | |
| Oversow no Clover | |
ORGANIC MIXTURES
| | |
| --- | --- |
| Organic RC + Hybrid | |
| Organic Preferred Grazing Mixture | |
| Organic Preferred Silage Mixture | |