Paul Robinson
Dairy Consultant and Farm Advisor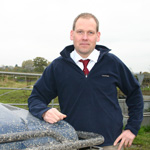 Kingshay's own Dairy Consultant, Paul Robinson is based in the North of England, working from his home in Yorkshire. With extensive farm management experience, a BSc in Farm Business Management and a strong practical farming background, Paul has a wealth of experience and knowledge to provide down to earth practical farming advice tailored to your business.
In January 2009 Paul was awarded a Nuffield Scholarship to study fertility in high yielding dairy cows. Paul is fully trained as an assessor for our How's My Herd service.
To contact Paul Robinson or receive further information about Kingshay One-2-One Dairy Consultancy please call 01458 851555 or email contact.us@kingshay.co.uk.