Phil Clarke
P&L Agri Consulting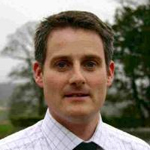 With over 10 years' on-farm consultancy experience, Phil Clarke can advise you on all aspects of your business. Phil has particular expertise in dairy cow nutrition, particularly with high-yielding dairy herds, cow health & cow fertility and business planning.
To contact Phil Clarke call 07950 912230 or email p.clarke@pl-agriconsulting.co.uk
To receive further information about Kingshay Dairy Consultancy please call 01458 851555 or email contact.us@kingshay.co.uk.