Claire Whittle
Kingshay Consultant
BVSc PG Cert MRCVS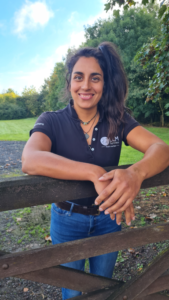 Claire has been a practicing farm vet since 2014 and currently works with a range of progressive dairy, beef and sheep farms in Shropshire and Cheshire. She sits on the steering group of the Nature Friendly Farming Network and is the veterinary lead for the Dung Beetles for Farmers team.

Claire's particular passion and interest is in regenerative farming methods and how this can benefit livestock health and welfare. She currently delivers a range of training for farming groups across the country, including integrated parasite management and dung beetle beetle safaris as well as delivering tailored consultancy advice for individual farm businesses within the regenerative sphere to identify how to work with nature and improve the health of livestock.
Sustainable Livestock Production
Parasite Control – dung beetles
Regenerative Agriculture
Farm ecosystems

Where Claire is based: Clwyd
Areas covered for Consultancy: England & Wales
To contact Claire call 01458 851555 or email consultancy@kingshay.co.uk.
To receive further information about Kingshay Consultancy please call 01458 851555 or email consultancy@kingshay.co.uk