Mike Feneley
Associate Consultant - Mike Feneley Rural Business
Dairy Technical Consultancy, Business Consultancy, Grants and Diversification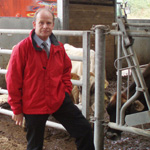 Passionate about the farming industry and have been in consultancy in Devon and Cornwall for 30 years offering both technical and financial advice to the agricultural sector. A very experienced Agricultural Consultant who also has practical working experience in various farming roles both in the UK and overseas.  Involvement in assisting clients with different means of marketing their produce and in diversification projects. An approved Consultant on the South West Register,  a member of Cornwall Branch of the Institute of Agricultural Management, also a member of BIAC and the Kingshay Farming Trust.

Mike is able to offer you a wide range of services within his company, Mike Feneley Rural Business.
To contact Mike Feneley call 07974 707317 or email mrfeneley@gmail.com.
To receive further information about Kingshay Dairy Consultancy please call 01458 851555 or email consultancy@kingshay.co.uk.