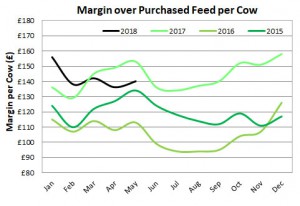 The latest results from Kingshay Dairy Manager show that Margins over Purchased Feeds have improved compared to last month at £140 per cow. Although this is £13 behind last year, the trends suggest that, with milk prices once again strengthening, we should equal or surpass last year's levels during the summer.  Quality forage availability may have some impact on this as many areas are suffering from an extended hot, dry period.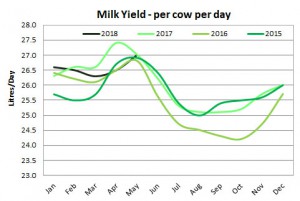 Considering the variation in weather and economic conditions, it is interesting to note that the yield recorded in May for the last 4 years has been almost identical at 26.7 litres  per cow per day, showing an overall variation of just 1%. Although the trend in production between March and May 2018 would suggest that production may exceed previous years, it should be noted that for 2 out of the last three years May has seen peak production. 40% of this production was directy attributed to forage, 3% down on last year translating to a feed rate of 0.27kg/litre against last year's 0.26. With average concentrate prices up by £13 per tonne, "all purchased feed" costs per litre were 1.4ppl higher than May 2017 at 7.3 pence but 0.43ppl lower than April 2018.
In terms of rolling results, yield per cow has strengthened to 8,175 litres/cow against 8,002 for year ending May 2017.  With average rolling herd size also having grown by 4 to 202, overall production per herd has increased by 66,954 litres and currently sits at 1.65 million litres. Against the backdrop of increasing yield per cow, production from forage has shown the opposite trend with 77 litres less that year ending May 2017 at 2,492 litres per cow. Overall this means that 250 extra litres per cow were derived from purchased feeds in the latest rolling twelve months, coupled with a £12 increase in concentrate prices this gave an increase in purchased feed costs of £68 per cow to £629. This probably reflects the better economic conditions as marginal litres are clearly of more value than when the milk prices were very restrictive, marginal cost equivalent for these extra litres were 15.9ppl.
Other rolling trends for the year ending May 2018 include -
Average herd size increased by 4 cows in herd, to 202.
Percentage of milk from forage has decreased by 2%. Currently 31% of production can be attributed to forage, compared to the previous year of 32%.
Milk price up 17.3% to 28.77ppl (24.52ppl in the previous year).
Purchased feed costs at 0.67ppl higher than last year, with the concentrate price per tonne £12 higher than last year averaging £219/tonne
Analyse your Profit Manager results for the year ending March 2018 now -
Proportion costs to the Dairy Enterprise
Analyse the true costs of production for your herd
If you are interested in analysing and comparing your herd's figures with other similar herds, give us a call on 01458 851555. More details of this simple and easy-to-use service can be found HERE.
More in depth analysis of herds using Kingshay's costings service can be found in Kingshay's Dairy Costings Focus Report. Click here for more details.