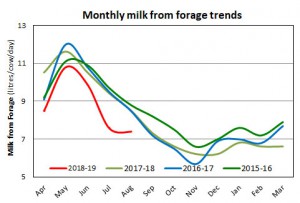 The latest results from Kingshay Dairy Manager indicate that the immediate effects of the early summer weather have largely eased. Milk from forage has stabilised and looks on track to match previous years as we progress into September. With the high soil temperatures and reasonable rainfall, many areas have been able to take good cuts of silage and will continue to do so while growth and ground conditions allow. This will ease concerns for many and improving stock levels should reduce forage prices for others where the dry conditions still prevail.
So how do the t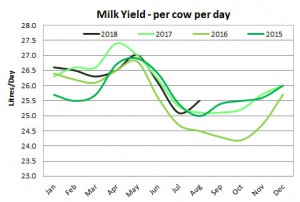 rends look for autumn and winter 2018? At this stage the overall prospects look positive especially for those with adequate forage stocks. The production chart shows that milk sold per cow per day has already reached 25.5 litres, a full month earlier than it reached a similar level in 2017.
With current monthly comparative milk prices also being marginally stronger, this winter should give opportunities to both restore the balance sheet damage incurred in the last milk price trough and invest in the business where required.
In year on year comparisons, rolling results for August 2018 look very favourable with herd size having grown by 2% (202 to 206 cows), an increase of 136 litres sold annually per cow (8,220 vs 8,084 litres) and butterfat, protein, SCC and bactoscan levels all showing improvements. Given the weather, it is unsurprising that yield from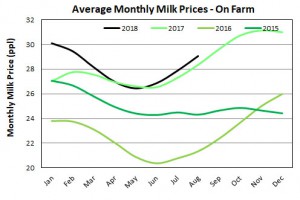 forage has dropped by 142 litres (2,444 to 2,586 litres) equivalent to a 2% drop to equivalent 30% from forage. However the improved milk price (26.18p to 28.88p) combined with a better milk price to concentrate price ratio means that margin per litre increased by over 2p to 20.97, which multiplies out to £1,724 per cow as opposed to £1,532 for 2017.
More in depth analysis of herds using Kingshay's costings service can be found in Kingshay's Dairy Costings Focus Report or call 01458 851555 for more details. 
Analyse your Profit Manager results for the year ending March 2018 now -
Proportion costs to the Dairy Enterprise
Analyse the true costs of production for your herd
If you are interested in analysing and comparing your herd's figures with other similar herds, give us a call on 01458 851555. More details of this simple and easy-to-use service can be found HERE.