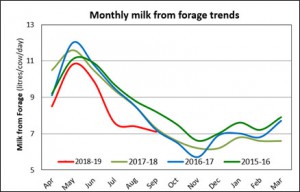 The positive trends showing in the Dairy Manager August update have continued to develop and should offer some real optimism for the coming winter. Primarily milk from forage has returned to the levels of the last two years, this is of great importance given the higher overall costs of purchased feeds. The current trend within milk from forage would also suggest that it may well exceed previous years in the next month which will assist in reducing marginal effects of the higher feed costs.
H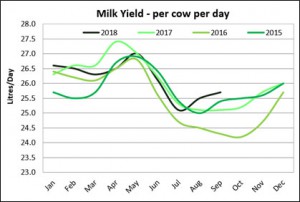 owever, the real performance change is in production per cow. Last month it was noted that we were a month ahead of 2017 on levels of production per cow and also that the trend within the figures suggested that this would continue. This has been the case and nationally we are currently 0.6 litres per cow higher than in 2017 at 25.7 litres, a level that was not achieved until November last year. Rolling yields are now slightly higher than before the heatwave so overall production is right back on track, the trend would suggest that yield increases are likely to continue into October, further strengthening overall production.
Comparing the September 17 and 18 monthly results, there were increases in concentrate costs of £20 per tonne so, although feed rates were consistent at 33kg/l ,the price rise directly translated into increased costs per litre of 0.82p. This was countered by a milk price rise of 0.3ppl so margin per litre was down by 0.52ppl. However yield per cow was 0.4litres higher resulting in margins per cow for September of £141 for 2018 vs £142 for 2017.
Rolling results summary 2017 vs 2018
Herd size increased by 3 to 201 cows
Yield per cow increased by 1.4% to 8,197 litres
Yield from forage (both physical and %) down
Milk price up by 2.19ppl to 28.92p
MOPF per cow up 9.3% (to £1,716)
MOPF per litre up 9.3% (to 20.93p)
More in depth analysis of herds using Kingshay's costings service can be found in Kingshay's Dairy Costings Focus Report or call 01458 851555 for more details. 
Analyse your Profit Manager results for the year ending March 2018 now -
Proportion costs to the Dairy Enterprise
Analyse the true costs of production for your herd
If you are interested in analysing and comparing your herd's figures with other similar herds, give us a call on 01458 851555. More details of this simple and easy-to-use service can be found HERE.