The Kingshay Shop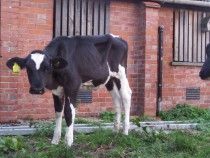 Calf pneumonia
Bovine respiratory disease is a major health problem in calves which has both long-term and short-term deleterious consequences.  It is a multifactorial disease which can be caused by many different pathogens, but an outbreak tends to occur where either environmental pathogen load becomes too high or calf immunity is compromised in some way.  Prevention is far better than cure and there are several management practices and mitigation methods which you can implement to reduce occurrence of the disease on your farm.
This Farming Note covers:
What is pneumonia?
The causes and clinical signs
Treatment
Prevention and control
Vaccination
Issued October 2014
Already a member?
Login to receive your membership discount