The Kingshay Shop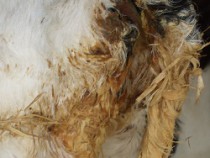 Calf Scours (Bacterial) Farming Note
Bacterial calf scours can be seriously debilitating and even fatal in the young pre-weaned calf. Losses range from £50 to £165 per exposed calf. This Farming Note covers the three main bacterial agents that cause bacterial calf scours; E. coli, salmonella and clostridium, and suggests some control methods for on-farm.
Issued October 2006.
About Kingshay Farming Notes
Since 1991 Kingshay has been publishing Farming Notes on issues critical to the success of a modern dairy farm business. These briefings provide dairy farmers, large animal vets, farm consultants and other interested parties with the most important and timely information in a concise two-page format. The information contained in our Farming Notes is written and updated by our experts to ensure accuracy and save you time.
A selection of Farming Notes are available to buy individually from our online shop. To gain access to all our Farming Notes become a Kingshay member.
Already a member?
Login to receive your membership discount