The Kingshay Shop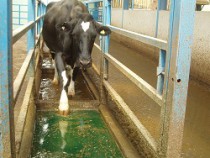 Footbaths Farming Note
Lameness is the third highest cause of culling in Kingshay Health Manager recorded herds and costs an estimated £205 per case. The top 25% of farmers see 24 cases of lameness per 100 cows, compared to the average 46 cases, equating to a financial difference of £4,428.  Foot bathing can be a valuable tool in controlling the incidence of both infectious and non-infectious lameness in a herd, but it needs to be well implemented and managed to be effective.
This Farming Note covers:
Why use a footbath?
Design considerations when setting up a footbath
What type of footbath?
Locating the footbath
Issued April 2014.
About Kingshay Farming Notes
Since 1991 Kingshay has been publishing Farming Notes on issues critical to the success of a modern dairy farm business. These briefings provide dairy farmers, large animal vets, farm consultants and other interested parties with the most important and timely information in a concise two-page format. The information contained in our Farming Notes is written and updated by our experts to ensure accuracy and save you time.
A selection of Farming Notes are available to buy individually from our online shop. To gain access to all our Farming Notes become a Kingshay member.
Already a member?
Login to receive your membership discount