The Kingshay Shop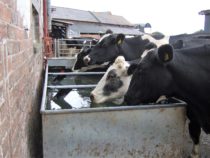 Livestock Drinking Water – Microbial
It is important to test water quality for any pathogens (as well as mineral content) which may cause problems with your livestock. High producing cows are particularly sensitive to poor water quality because of the amount of water they are required to consume daily. Untreated water i.e. boreholes and water harvested from roofs should be assessed for microbiological content. Analysis of private water supply is also a requirement of many farm assurance schemes.
LDW analysis – microbiological:  Reports on total coliforms, E.coli and Salmonella.            
(Prices quoted are excluding VAT. VAT will be added at the current rate once in the trolley).
Already a member?
Login to receive your membership discount