The Kingshay Shop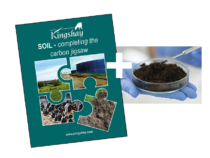 Soil Carbon Multibuy
Save over £30 with our Soil Carbon Multibuy.
This purchase includes the 'SOIL - completing the carbon jigsaw' and a CarbonCheck & Textural Class Soil Analysis.
HOW MUCH CARBON ARE YOUR SOILS STORING? - measure your soil carbon with our CarbonCheck Analysis.
Soils are fundamental to agriculture, without healthy soils farming is neither profitable nor sustainable. Our CarbonCheck analysis means that you can now measure the levels of carbon in your soils. With the NFU's target of achieving net zero by 2040 it is important now more than ever that farmers are playing their part in climate change mitigation, so measure your carbon today with our carbon analysis service.
CarbonCheck Analysis with textural classification (individual sample) includes:
Carbon (Organic, Inorganic and Total), Nitrogen (C:N ratio), % Sand, Silt & Clay, density to calculate the Carbon stock and Soil Organic Matter.
Analysing your soils using CarbonCheck with Textural Classification will not only allow you to see how much carbon you are sequestering, tonnes per ha. But with the %Clay results you can calculate your SOC to Clay ratio to classify your soil C as 'very good', 'good', 'moderate' or 'degraded' – this will help you to make management decisions when it comes to Carbon in your soils.
WHAT IS THE POTENTIAL OF YOUR SOIL TO STORE CARBON? - compare with the results in our Soil Carbon Report.
This Soil Carbon Report, 'Soil – completing the carbon jigsaw' combines the key findings from the Kingshay Soil Organic Carbon Project, alongside other research and knowledge. The aim of the project was to better understand the current soil organic carbon (SOC) levels of grassland soils and gain a better knowledge of carbon sequestration and how management practices on farm may influence carbon levels.
It is intended to be a practical guide for farmers who want to improve or maintain soil organic carbon in their grassland soils.
This report will help farmers to understand how they can play their part in climate change mitigation whilst improving the health of their soil, having a positive impact on their profitability.
Issued 2nd March 2021.
(Prices quoted are excluding VAT. VAT will be added at the current rate once in the trolley).
If you would like any other advice, please contact the office on 01458 851555.
Already a member?
Login to receive your membership discount