The Kingshay Shop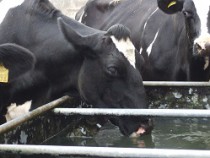 Water Supply Farming Note
Dairy cows will drink up to 160 litres in 24 hours so their water supply must make that readily available. Minor restrictions in water availability can reduce water intake by 18%, milk yield by 11% and depress butterfat content. If water supplies are inadequate or heat stress becomes severe, cows divert water normally used in milk production to keep cool.
This Farming Note covers:
Water consumption for different milk yields
Water quality
Siting of troughs
Different troughs manufactured and guideline prices
Issued May 2007
Read our Water Supply Farming Note to find out more.
About Kingshay Farming Notes
Since 1991 Kingshay has been publishing Farming Notes on issues critical to the success of a modern dairy farm business. These briefings provide dairy farmers, large animal vets, farm consultants and other interested parties with the most important and timely information in a concise two-page format. The information contained in our Farming Notes is written and updated by our experts to ensure accuracy and save you time.
A selection of Farming Notes are available to buy individually from our online shop. To gain access to all our Farming Notes become a Kingshay member.
Already a member?
Login to receive your membership discount