Enhance Dairy Cow Housing
Reduce The Financial & Welfare Costs Of A Poor Environment
A cow's natural environment is walking and grazing in open grassland and ruminating tough and fibrous grasses. In contrast, modern dairy cows are often confined on concrete and fed high energy feeds such as wheat grains. These can both have a negative effect on her. A healthy environment is essential for a dairy cow's well being. A dairy cow with sore feet will lose her rank within the herd, change her eating patterns and lose weight. This will seriously impact on her ability to survive in a modern dairy system. The environment can also have an impact on fertility, mastitis, milk production and premature culling all of which directly affect profits.
This Workshop will help you: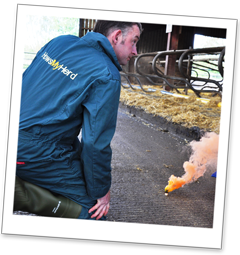 Establish the true costs of a poor dairy cow housing environment
Focus on key areas to improve
Identify causes of specific problems
Highlight effective control measures
The workshop runs from 10.45am - 3pm (lunch included) and is open to all dairy farmers and staff. Morning discussions and on farm after lunch.
If you are interested call Kingshay on 01458 851 555 for details of events.