Meet The Team
Kingshay Team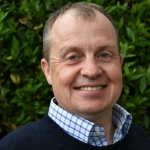 Richard Simpson – Development Director

B.Sc. Hons (Agric)
Richard has been with Kingshay since 1994 and is involved in all aspects of business management and development. He has a wide experience gained in consultancy, managing and running practical projects, IT projects, farmer surveys and desk studies; researching and writing technical reports and leading farmer discussion groups. His areas of expertise include farm business consultancy, farm business analysis & budgeting, extensive knowledge of dairy farming systems, key performance measures and keys to profitability & success as well as the ability to find & develop solutions e.g. applying the input requirements of a complex scientific model to practical farm situations that can be replicated from farm to farm.
Richard has been heavily involved in the designing, development, operation and promotion of the Dairy Manager herd costings service which is used by 2,000 dairy farms in the UK. Richard also has IT development and data analysis skills together with an in depth knowledge of on-farm Carbon Footprinting and evaluation of measures that can be taken to reduce emissions.
From a dairy farming background Richard, gained a BSc honours in Agriculture at Harper Adams and has practical experience managing cows on a day to day basis.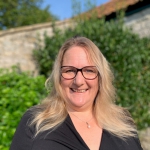 Sarah Bolt – Technical Knowledge Exchange Manager

B.Sc. (Agric), MSc Animal Behaviour
Sarah has worked in the agricultural sector for over 20 years, having graduated with a BSc in Agriculture (University of London). Roles have included  technical sales and advisory positions. Latterly she was heavily involved with knowledge exchange, focussing on engaging farmers to drive change on farm.
Sarah studied for an MSc in Animal Behaviour (University of Exeter) graduating in 2014. Her dissertation looked at the effects of social contact on the health and production of dairy calves.
Joining Kingshay in 2017 Sarah is responsible for knowledge transfer to the membership, principally with writing technical publications and dealing with technical queries. Her role with Kingshay continues to build on her passion for motivating and inspiring change on farm for a profitable, sustainable future. Sarah also facilitates the Wyvern Discussion Group.
Sarah is a founder of "Women in Dairy" and now sits on its steering committee, organising the annual conference, training facilitators and driving the organisation forward. In her spare time Sarah is most likely to be found in the great outdoors, either gardening or walking the many footpaths of the southwest.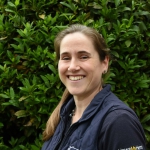 Kathryn Rowland – Senior Farm Services Manager

B.Sc. Hons (Agric)
Kathryn joined Kingshay in 2002 after studying Agriculture at Seale Hayne, University of Plymouth. She carried out work experience as a placement student for Kingshay in 2001.
She now manages the Farm Services Team. A key part of her role is analysing key performance data and writing technical articles for publication. Kathryn co-ordinates the publication of Kingshay's Dairy Costings Focus Report, published annually. She also runs the Profit Manager service and business management training workshops.
She is involved in farm discussion group meetings where all costs of production are discussed in detail and benchmarked against full costs of production.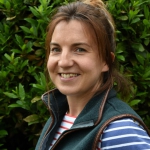 Felicity Gale – Farm Services Specialist

B.Sc. (Animal Science)
Felicity will be known to many of you as the main contact for any technical and customer service queries regarding your herd(s) and is responsible for the smooth running of our Dairy Manager costings service. Having joined the team in 2013, she now regularly analyses production results and industry trends for key clients.
Felicity is well qualified for the role having gained a BSc in Animal Science from Harper Adams and has worked on a diverse range of dairy farms in Australia and Canada.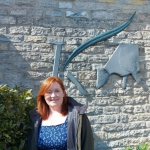 Mary-Kate Foster – Farm Services Specialist
Mary-Kate joined the Dairy Manager team as Farm Services Specialist in April 2021 to help assist with any queries whilst sending out the reports and ensuring smooth running of the costings service.
Mary-Kate has a vast amount of farming experience, ranging from rearing her own calves, pigs and breeding sheep & most recently working as a milk recorder.
Outside of work, Mary-Kate has 3 young boys & 2 dogs that keep her busy. When she has any spare time from a busy family life, she enjoys a bit gardening & baking.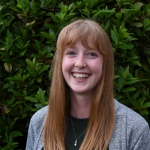 Christina Ford – Product Owner

BSc (Hons) Bioveterinary Science
Christina joined Kingshay in April 2019 to provide customer support and to progress the services we provide. She is now Product Owner for the DigiFarm development as well as being involved in many other projects including the antimicrobial work we do.
Christina grew up on a beef and pig farm in Somerset and studied Bioveterinary Science at Harper Adams. Before joining Kingshay, Christina worked as a pig nutritionist at ForFarmers, where she formulated unique diets and progressed a data analysis system to enable clearer access to data to help improve productivity on farm.
In her spare time, Christina can be found running around the hockey pitch, walking her dog Haze round the moors or with her few rare-breed sheep.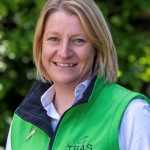 Sarah Tomlinson – Kingshay Veterinary Consultant

BVM&S MRCVS
As an experienced farm vet, Sarah has worked with a variety of dairy and suckler herds, together with sheep flocks in the East Midlands. Her role has required her to have excellent communication skills both on an individual level with farmers, speaking at public meetings, liaising with government and talking to industry stakeholders. During her career she has developed excellent working relationships with the NFU, CHeCS, BVA, BCVA, AHDB, DEFRA and APHA, as well as with individuals at Universities. It is through these connections that she has developed a keen interest in social science and farmer behaviour. Sarah is passionate about improving livestock welfare and productivity by reducing the risk and impact of endemic disease, particularly bovine TB.
Sarah has three children and two Labradors, and loves walking around our beautiful countryside. She is an active member in the local farming community. Sarah is a keen contributor on social media, championing British farming and the rural community. Reading has been a passion since childhood and devouring a book in one day is a rare luxury. She loves to cook, enjoy holidays by the seaside and various crafts but have yet to perfect most. More recently Sarah has developed an interest in politics.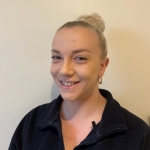 Hannah Burns – Services Support & Marketing Co-ordinator
Hannah joined Kingshay in February 2023. She has 5 years' experience in marketing that includes working in the retail, interior and education sectors. Hannah is looking forward to learning more about farming and agriculture whilst at Kingshay.
Outside of work, Hannah loves to spend her weekends in the countryside with her fiancé, family and French Bulldog, Daisy-May.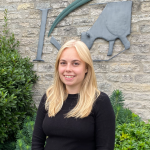 Kate Butler – Development Projects Specialist
Kate joined the Kingshay team in August 2021 to help support the administration of the TB Advisory Service. She is now part of the Developments team at Kingshay as Development Projects Specialist and helps with many of the ongoing projects.
Kate has a range of agricultural experience from working on a family dairy farm and often helps with milking, calving and calf rearing. Kate is also an active member within both Women In Dairy and the National Federation of Young Farmers where she currently holds the position of Secretary for her local club.
In her free time Kate enjoys country walks with her dog called Pippa.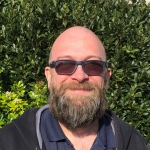 Ian Heathcock – IT Development Specialist
Originally trained as an electronic engineer, Ian has been creating websites and writing bespoke software since the late 1990's. With Kingshay since 2008, Ian develops both in-house software and customer facing products.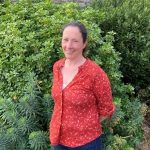 Helen Axe – Web Developer

BEng (Hons) Software Engineering
Helen joined Kingshay in 2022 as a web developer. She has many years development experience working in a wide variety of industries and is interested in all elements of software design from user experience and accessibility to databases. Helen has great insight into the industry as she has her own smallholding of animals and will use this to help better understand the needs of other farmers when developing software for Kingshay and its customers.
Outside of work, Helen is kept busy on her smallholding in the Wye Valley and training her dogs.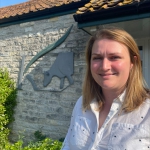 Emily Bunn – Project Coordinator
Emily has gained lots of agricultural experience working as a Red Tractor Farm Assessor for beef, lamb and dairy farms, and as a Rural Compliance Consultant, completing grant applications and providing a compliance service for NVZ, EA and Red Tractor. Outside of work, Emily is often found working alongside her husband on his beef suckler farm or enjoying long walks with her Sprocker, Henry.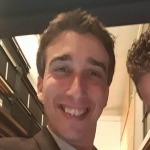 Alex Pizzoferro – Senior Software Engineer

BSc (Hons) Computing & Information Technology, DipHE Internet & Communication Technologies
Alex joined Kingshay as a Senior Software Engineer in October 2021. He has over 15 years of professional software development experience as a web solutions architect and fullstack developer, specialising in Microsoft's technology stack. 10+ years of which involved working on business critical applications in global Fortune 500 companies. Web development has been a passion of his for over 20 years and has seen him producing his own systems in his spare time. Alex is very interested in learning new and emerging technologies and how they can be applied to improve systems & business processes.
Alex was born in Surrey and is half Italian, he also lived in Scotland for around 12 years. He enjoys visiting family & friends in both Italy & Scotland. In his spare time, he loves playing with & looking after his two young sons and going for long walks & bike rides, exploring quieter places away from the hustle & bustle of town life.
Alex is excited to apply his range of skills to Kingshay and help drive the company forwards and in turn the agricultural sector, he is also very passionate about improving the welfare of animals.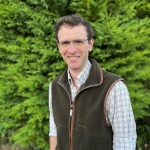 Ben Barnett – Mobile Application Developer
Ben joined Kingshay in summer 2022 as a mobile app developer. Previously a dairy herd manager, he will be using his dairy farming and development experience to help create mobile tools which integrate with the various Kingshay projects.
Ben has a particular interest in producing software that aids decision making on-farm.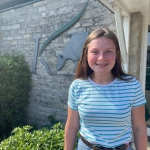 Molly Lee – Administration Assistant
Molly has recently joined us in June 2023 after finishing her Level 3 Diploma at Cannington college. She had a lot of experience within the agricultural sector, such as working on her family beef farm and doing a few years of relief milking at other farms locally, also working at Sedgmoor cattle market on a Saturday. Molly is a member of the National Federation of Young Farmers with her local club. Molly is looking forward to gaining more knowledge about Kingshay as she starts her new career. Outside of work, Molly enjoys going on evening walks, bike rides and visiting the beach.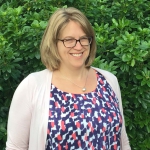 Helen Frost – Finance and Administration Manager

MAAT
Helen has joined the team to ensure the efficient running of the office. With her background in farm accountancy Helen will be keeping our books up to scratch. Prior to joining us Helen ran her own farm secretarial business.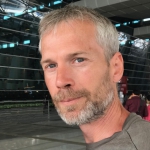 Richard Brown – Software Developer
Over the years Richard has specialised in data, from semi-conductor components to recruitment.
He joined Kingshay in June as a software developer and recently moved to the countryside specifically to work in a rural industry. Although not from a farming background, Richard is interested in the role technology can play in farming to improve efficiency, conservation and the environment.
When Richard is not working he is usually in the garden - treading a fine line between keeping the wildlife, his landlord and the vegetables happy.