Training
We offer a wide range of training to suit all farm types and species, addressing all areas of the business, from animal health and welfare to recruitment and environmental management. The Kingshay team and their network of consultants have extensive experience of delivering training to audiences across the UK and abroad.
FarmIQ - the online training provider for farmers.
Connecting you with industry leading expertise.
FarmIQ is the agricultural training provider that marries industry leading expertise with a convenient, user-led format.​
Continually developing skill and knowledge is crucial for farmers, but different circumstances demand different approaches. We offer online courses allowing you to decide the time, place and pace of your learning, as well as face-to-face courses in which experienced trainers deliver training at venues across the UK.
Every farm is unique, and we know that the needs and circumstances of each and every farmer is unique too. That's why we have designed our training service to be as flexible as possible, ensuring we can help people across the industry. 
Courses Available: 
Some of our courses are Red Tractor Assurance approved including The Responsible use of Medicines Courses. 
Topics include: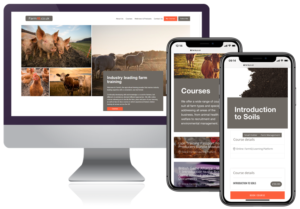 • Cattle
• Pigs
• Poultry & Gamebird
• Sheep
• Camelid
• Farm Management
• Smallholder
To browse the available courses please visit www.farmiq.co.uk.
We are always looking to develop more online content so if you cannot find a course on the topic you are interested in or are looking for a more bespoke offering please get in touch on 01458 851555 or email contact.us@kingshay.co.uk.

Training Workshops
If you are a farming business, corporate member, or other agricultural company looking for practical and informative training for your staff, either in person or virtually covering a wide range of topics, please get in contact.
Through our network of trainers and consultants we can provide bespoke training sessions on anything from key practical topics such as foot trimming, artificial insemination, and the responsible use of medicines, through to sessions on team building and management. We can tailor any workshop to suit your specific requirements and can provide ongoing support and further training as required.
To find out more, call us on 01458 851555 or email contact.us@kingshay.co.uk.
Technical Speakers for your Event
If you are a Discussion/Farmer Group or your company is looking for industry leading, evidence-based speakers on any topic related to UK agriculture, Kingshay can help. Our team has experience of delivering in person or at virtual events  to audiences of all sizes from small group workshops to speaking at large international conferences.
To find out more, simply talk to us on 01458 851555 or email contact.us@kingshay.co.uk.
Facilitation
Our facilitators have proven skills running farmer meetings and discussion groups for many years. We draw on a range of expertise and approaches to help you achieve your meeting objectives, whether that is to generate ideas, solve challenges or provide on farm training.
To find out more, call us on 01458 851555 or email contact.us@kingshay.co.uk.