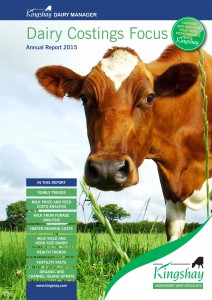 Kingshay's fourth edition of the Annual Dairy Costings Focus Report reviews milk price trends to March 2015 and ranks data by feed costs, yield from forage, region, yield band and herd size from Dairy Manager, with additional results from Kingshay's Health Manager service, including fertility and cell counts.
The gap between the 10% highest and 10% lowest paid milk producers has almost doubled in a year, as milk prices for all have fallen.
Analysis of Kingshay Dairy Manager recorded conventional Holstein Friesian herds, published in the Dairy Costings Focus Report 2015 reveals the true range in prices producers actually receive for their milk, rather than those estimated by looking at contracts. It shows the lowest paid 10% of producers' average price for March 2015 was just 21ppl, only two-thirds the amount received by the highest 10% paid at 32ppl.
"In spring 2014, the gap between them was just 5.6ppl. But as the highest paid producers have seen milk prices fall by less than 4ppl, the ones who were already being paid less have seen prices fall by almost 10ppl," says Kingshay director Richard Simpson. "The gap between them has been steadily widening and is now more than 11.6ppl."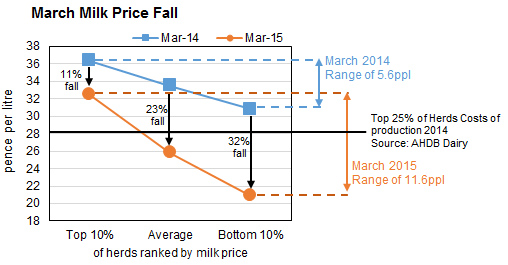 The data also shows that 70% producers' milk price dropped was more than 6ppl lower in March 2015 than in March 2014 and for 25% it was more than 10ppl lower."
Yet for the year to March 2015 average milk prices dropped by just 2.1ppl because milk prices only started their steep decline in September 2014. "But looking at the detail, it shows the highest 10% saw a 0.6ppl fall, while the lowest paid 10%, who already received more than 4ppl less saw a fall of 3ppl.
"Regional differences are also apparent when the data is analysed. Annual milk prices in the North of England and Scotland have fallen the most, despite being two of the lowest paid regions in the previous year," says Mr Simpson.
"Unless market prices improve, the average annual price is going to fall more steeply in the current year.
"But even this will hide the widening gap between producers' prices and the industry needs to look beyond averages to understand the impact of current milk prices on a significant proportion of producers supplying the commodity market.
"It seems that UK market segmentation has come to the fore with oversupply on the World market. While the gap may close whenever prices rise again, it is as likely it will widen again with any future falls."
A similar trend of a falling and widening gap in milk prices is also seen in the Dairy Manager data for Channel Island herds, although part of the price difference is related to milk quality. Organic herds data shows their milk prices have held up better in comparison to conventional herds, increasing the gap from conventional prices by 2.7ppl to 8.7ppl.
The analysis of feed efficiency results in Dairy Manager data shows 10% of producers spend 5.1ppl on purchased feed, while 10% spend 11.2ppl.
Download your FREE copy of the report here.