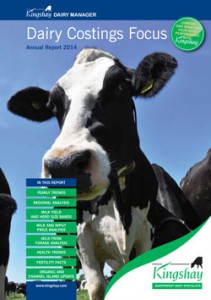 Higher milk prices have boosted margins in the latest results reported by Kingshay in its new Dairy Costings Focus but the gap has widened between the best and worst herds in efficiency of milk production.
The figures show many farms are missing out on the potential gains higher prices could deliver whether their focus is margin per litre or margin per cow, says Kathryn Rowland, Kingshay senior farm services manager. "A desire to keep milk yields up with high milk prices is understandable, however, in terms of feed efficiency the average herd has yet to recover to the efficiency levels achieved before the poor forage year of 2012."
Feed efficiency is shown to relate strongly to profit in Kingshay Profit Manager figures, when all production costs are taken into account. If herds are ranked by margin over purchased feed, there is a 5.42ppl gap between the top and bottom 25% which is worth £75,000 for a typical 1.4m litre herd. About 1.5ppl of this relates to milk price, so the better feed use efficiency achieved by the top herds is worth 3.9ppl.
When herds are ranked by milk from forage, the difference in margin per litre between top and bottom 25% herds is also 3.9ppl, with similar average yield and an almost identical milk price. "Milk from forage is often criticised because it is a calculated figure, but its strength as a key performance indicator lies in its ability to indicate underlying feed use efficiency, while stripping out the variables of rapidly changing milk and feed prices. This is what makes the big difference in margins per litre or per cow, with little yield effect and it can be monitored easily, month by month using Dairy Manager," says Mrs Rowland.
Results from Kingshay's Health Manager service show mastitis cases have dropped by 11% to 52 cases per 100 cows with a rolling cell count of 165('000). This drop of 11% equates to a saving of £1,300 for the average producer. Culling rates have reduced from 26% to 24%, with culls for mastitis and high cell counts both showing significant reductions.
Kingshay's third edition of the Annual Dairy Costings Focus Report is published at the Livestock Event 2014. This analysis to March 2014 reviews 10 year trends and ranks data by yield from forage, margin per litre and per cow, region, yield band, herd size and calving pattern from Dairy Manager, with additional results from Kingshay's Health Manager service, including fertility and cell counts.
Note: Data tables from the report may be reproduced in part or full by the Press in conjunction with an article and with credit to the source as Kingshay Dairy Manager.