Milk price range narrows, while feed efficiency gaps remain wide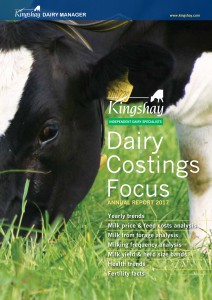 The rolling average milk price to March 2017 may have decreased by 0.6ppl to 23.8ppl in this year's Kingshay Dairy Costings Focus Report, but lower paid farmers have seen welcome price increases in recent months.
An analysis of milk prices received by Dairy Manager recorded Holstein/Friesian herds shows the gap between the lowest paid 10% and highest paid 10% was down to 6.8ppl for March 2017 compared with 13.9ppl in March 2016.
"The price received by the highest paid has changed little at 31.3ppl, so the beneficiaries are the lowest 10% with a monthly price in March of 24.5ppl compared with 17.2ppl in March 2016," explains Kingshay's senior farm services manager Kathryn Rowland.
This is the first year average herd size has gone above 200 cows and herd output averaged 1.67m litres, a 49% increase since the results from March 2007.
"Performance from forage in the year to March 2017 has seen a small decrease from the previous very good growing season.  Over the longer term, the average yield from forage has changed little. But for the last four years the top 10% ranked by milk from forage achieved above 4,000 litres a cow from forage every year, with an average yield of about 8,000 litres a cow," says Mrs Rowland.
In the year to March 2017, these top 10% herds saved 1.8ppl in feed costs compared with the average by producing 1,610 litres more from forage at a similar yield close to 8,000 litres.
"For a herd selling 1.6m litres that's worth £28,800 in feed costs. This difference in purchased feed costs could be the difference between profit and loss on many farms, even with slightly better milk prices this year.
"In a dairy farming industry where being average seems unlikely to result in reliable long term profit, there is much to gain from using this report to benchmark herd performance. A review using the data relating to a range of relevant factors, such as region, herd size and milk yield level, can indicate what is possible in a particular scenario.
"Then by estimating the financial gains from making any changes, this may justify additional management effort, investment in reseeding or tracks and seeking independent advice on cow nutrition or grazing management, to lower milk production costs in the longer term. "
Download the report from here.