Gaps in milk prices and feed efficiency in evidence
The impact of oversupply of milk on the World market is seen in this year's Kingshay Dairy Costings Focus Report with the rolling average milk price for Holstein/Friesian milk reducing by 5.7ppl to 24.4ppl.
However, for many producers the milk price actually received in the year to March 2016 is far from the average, with continuing increases in market segmentation clearly evident when data is ranked on rolling milk price received. "The highest 10% paid received 31.3ppl, whereas the lowest 10% averaged 18.7ppl," explains Kingshay senior farm services manager Kathryn Rowland.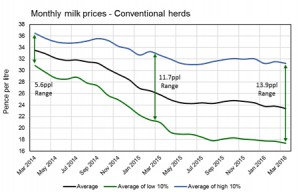 "This gap in the rolling annual price paid has widened to 12.6ppl from 6.9ppl in the year to March 2015."
When the annual data is compared with the previous year, it shows the response of the lowest 10% band for milk price has been to increase herd size by an average of 32 cows. This has resulted in an increase in total milk output by 23%, to try and maintain income. Whereas the highest paid 10% reduced cow numbers and a small increase in average total milk sales was recorded.
"The most recent year has seen a little relief in milk production cost, with reduced input prices and improved forage," adds Mrs Rowland. "These have contributed to improvements in average feed use efficiency, saving an average herd 1.2ppl.
"But there is potential for many herds to improve efficiency further, as the top 10% ranked by milk from forage saved 2ppl in feed costs compared with the average at a similar cow yield." For an average herd which sold 1.6m litres in 2015-2016, this is worth £32,000 a year in purchased feed costs.
"Identifying any potential changes to achieve savings may be helped using the data in this Dairy Costings Focus Report. It gives farmers a unique opportunity to see the typical efficiencies of many different systems," says Mrs Rowland.
"This can help set realistic targets for an existing system or show what might be achieved by comparing different management options. This year, the report includes new comparisons of robotic milking versus twice a day milking and three times a day milking plus different winter forage options."
Kingshay's Dairy Costings Focus Report 2016, which includes detailed analysis of milk price and feed efficiency data from its Dairy Manager service, will be published at Livestock 2016, with copies available from stand AH152 and following that it can be downloaded at www.kingshay.com .