In your mailing:
Gases such as methane and carbon dioxide are produced as part of the normal process of digestion in cattle. These gases are usually discharged by eructation (belching). If the animal is unable to remove the excess gas it builds up causing bloat, a distention of the ruminoreticulum. This dairy insight explores the causes of bloat, and how it can be treated - and first and foremost, how to prevent bloat from being an issue for your stock.
As bought-in feed costs show no sign of abatement, choosing to feed home-grown cereals rather than sell them could be a wise decision. The variety of treatment options available also creates flexibility to either produce a concentrate or forage replacer, depending on requirements. However, before making decisions, it's important to sit down, weigh up the options and calculate what's best for an individual farm. This dairy insight explores the options for you to consider.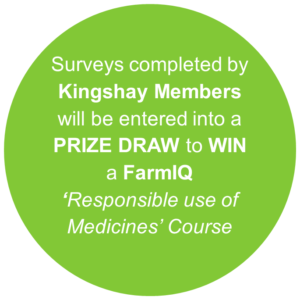 Knowledge, Information & Training Survey
– Your Opinion matters to us!
At Kingshay we would like to understand more about how our members want to consume knowledge, information & training.
Survey & reply envelope enclosed in your last mailing.
Also available online at: forms.office.com/r/r8H6V6upkm
We are attending "Down to Earth" on the 15th June – do come along and see us!