At Kingshay…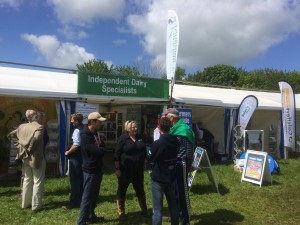 Last week we attended Grassland UK 2018 at Shepton Mallet. Kingshay and TBAS shared a stand at the event, which was run on a working farm. The weather was fantastic, and whilst this possibly kept some farmers back on the farm, busy with silaging or getting maize into the ground, it meant for a pleasant day.
We had a busy day, meeting with many current Members, and non-Members alike and Kingshay's John Bennett had a great turnout for his seminar on strategies for reducing TB.
Enclosed in your mailing:
The spread of bovine TB (bTB) on farm can potentially be reduced by adopting certain management practices. Transmission risks for bTB include infected wildlife (particularly badgers), infected cattle (either within the herd or neighbouring herds), or land or machinery contaminated with Mycobacterium bovis (the bacteria which causes bTB). This publication summarises the options available to reduce TB risk. Although none of these will completely remove the risk and some may not be practical on your farm, they are worth considering.
Cow brushes not only help to fulfil the cow's natural desire to scratch, but could also lead to a 1-litre a cow a day uplift in milk yield, along with less disease and reduced damage to farm buildings. Such enrichment is already part of some farm assurance requirements, but is likely to become increasingly important as milk buyers look to promote animal welfare to consumers. This publication looks at the benefits of cow brushes, the types of cow brushes available, where to site brushes, and includes a Buyer's Guide.
We offer a full range of analysis services and sampling tools – with discounted prices for Kingshay Members.
Make the most of your 2nd Cut Silage by undertaking a pre-cut silage grass analysis to optimise nutritional value of your  winter forage.
Keep hold of good staff by providing staff training and CPD

Do you share your Kingshay publications with your farm team?
Not only do they make an excellent resource library but Kingshay's publications are also a great staff training tool.
Remember one Dairy Pro point per month is available for reading the Kingshay publications – for both for you and your staff – if you are already a member of Dairy Pro all you need to do is contact Sarah Bolt at Kingshay on 01458 851555 with your details to get these points added to your record.
Reminder - Have you signed up for Dairy Manager, dairy costings yet?
Further to our correspondence in early February – Dairy Manager is now available to members at no extra cost. All you need to do is complete the Herd Profile form sent to you and return to us. If this raises any questions or queries, please do not hesitate to contact the office on 01458 851555.
We are attending the following events:
Royal Cornwall Show – Thursday 7th June & Friday 8th June - if you are attending, do make sure to visit us on the Westpoint Farm Vets Stand.
RABDF/NMR Gold Cup Open Day on 14th June at The Leen, Pembridge, Leominster, HR6 9HN – if you are attending, do make sure to visit us (pre-registration for the event is essential rabdf.co.uk/gold-cup-open-day).
To find out more about becoming a Kingshay member, see our Join pages