In your mailing:

Q (Query) fever, caused by the bacteria Coxiella burnetti, is an important disease of cattle, sheep and goats. As well as causing potentially significant losses in dairy herds, it is a zoonotic disease, which means it can cause illness in humans. However, despite this, awareness of the disease across the farming industry is considered to be very low. This dairy insight aims to improve your knowledge and understanding of the disease and how you can manage it on your farm.
Balancing diets is not just about ensuring you provide the correct energy, protein, starch, etc. Minerals are essential for health, fertility and production. With forage contributing a major proportion of the diet, its mineral status will have considerable impact. This dairy insight publication explores the importance of analysing forage minerals, when and how to take a sample, and how to interpret your analysis results.
Products & Analysis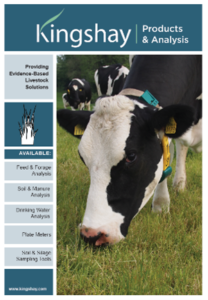 We offer a full range of analysis services and sampling tools – with discounted prices for Kingshay Members.
Matching your animal's requirements with nutrient supply is key to maximising production. Analysing feed, forage & water is a crucial factor as quality can be extremely variable year on year as well as from farm to farm.
The results of the analysis can be used to inform your decisions, meeting the needs of your farm.
Don't forget your soil analysis too – soil sampling at this time of year allows you to prepare your fertiliser reigime, increase plant growth and yields, as well as managing costs.

20% Off ALL  Courses*
*excludes Recruiting the Right People, Leading & Developing the Team, Leadership & Management and HR Foundations and The Farm Management Bundle