Enclosed in your mailing:
The first week of October saw more than 300 visitors to the South West Dairy Development Centre.
The official opening took place on Tuesday 2nd October, with the ribbon cutting ceremony led by The Earl and Countess Bathurst – Joint Presidents of the Bath & West of England Society.
Following the official opening, the South West Dairy Development Centre was open to visitors on Wednesday, on their way to or from the Dairy Show at the Bath and West Showground. Over 150 people called in to see the unit, if you missed out, don't worry there will be plenty more opportunities.

As the biggest agricultural contributor to UK ammonia emissions, dairy farmers are under increasing pressure to improve air quality. At present we are not on track to meet targets set, which led to the release of the Draft Clean Air Strategy in May 2018. The strategy gives every indication that farmers will face regulation for ammonia emissions. At the same time, there are also clear signs that post-Brexit financial support will be focused on delivering improvements to the environment, including air quality. This dairy insight looks at why ammonia is a problem, what we can learn from Denmark and The Netherlands and how to reduce ammonia emissions.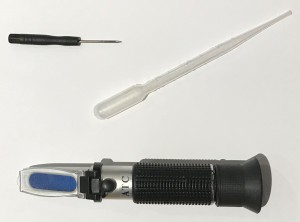 A refractometer is a simple instrument used for measuring concentrations of aqueous solutions. It requires only a few drops of liquid, and is used throughout the food, agricultural, chemical and manufacturing industries - and the home brewers amongst you will certainly be familiar with them. This dairy insight publications looks at how to use a Brix refractometer and what you can test on farm to make informed management decisions.

We offer a full range of analysis services and sampling tools – with discounted prices for Kingshay Members.
Matching your animal's requirements with nutrient supply is key to maximising production. Analysing feed, forage & water is a crucial factor as quality can be extremely variable year on year as well as from farm to farm.
The results of the analysis can be used to inform your decisions, meeting the needs of your farm.
To find out more about becoming a Kingshay member, see our Join pages.