At Kingshay...
As the effects of COVID continue to wreak havoc the Kingshay team will continue to follow Government advice, carrying out the majority of their work from home. However, we are continuing to provide the same services as usual for all our members, from dairy costings to our tools and analysis packages. Please continue to contact us either via email contact.us@kingshay.co.uk or by phone on 01458 851555.
Keeping yourself, family and staff safe, is key. Whilst most farm visits will have stopped, there will be some essential visitors to your farm – your vet, for instance. So, remember to do everything you need to do to ensure, your visitors' safety and the safety of people on your farm.
Above all, stay safe at this difficult time!
Our thoughts are with our members who are impacted by COVID, don't forget, as part of the dairy insight Service, we offer a free of charge telephone support for practical advice on dairy farming issues. Remember there are also many other organisations out there that can help – a problem shared, is a problem halved.  
Enclosed in your mailing:
In November 2020, parliament finally approved the Agriculture Bill. This set out how farmers and land owners in England will be rewarded in the future with public money for "public goods", such as soil health, better air and water quality.
Beginning in 2021, farmers in England will see a 7-year transition period, with the new system taking the place of the Basic Payment Scheme. At the same time, measures designed to improve productivity and produce high quality food are also included in the Act.
This business insight will take you though the Agriculture Act, to guide you on how to prepare you for these changes.
On-farm milk testing of individual cows is a growing requirement from some milk buyers as they look to curb the number of bulk tank failures due to antibiotic residues. Carrying out on-farm testing for antibiotics on individual cows and the bulk tank is a belt and braces approach to avoid issues. However, it is illegal to put milk back in the tank before the end of the milk withdrawal, even if a cow has passed an on-farm test.
This dairy insight examines how to avoid antibiotic failures, looks at the on-farm test kits available and helps you choose the right one for your farm.
Did you know……
Under the Farming Rules for Water introduced in April 2018, farms are required to soil test each field at least every 5-years. Aimed to promote good practice in managing fertilisers and manures, to avoid diffuse pollution, the analysis of Phosphorus, Potassium, Magnesium, pH will aid fertiliser planning. As a result, input costs may be reduced as nutrient requirements can be more easily matched to nutrient supply.
This means that on average 20% of your farm area should be soil tested each year.
Kingshay's Soil Sampling Tool makes sampling quick and easy, without the need for digging holes with a spade. Samples are collected in the funnel and can be easily mixed before boxing the samples for dispatch.
Have you taken you a photo of your Kingshay Year Planner & shared it to social media?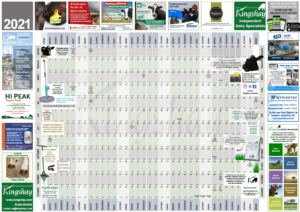 Follow us on social media and join in #mooyear by taking a picture of your year planner up on the wall and be in with a chance of winning a year insight or a year DM regular package Free of Charge!
To enter post your picture on either Facebook, Instagram or Twitter between 1st Jan and 31st Jan 2021 and use #mooyear.