At Kingshay...
Last week Kathryn Rowland was busy with 2 farmer discussion groups discussing their actual Costs of Production data and key performance trends. If you are in a discussion group and would like to know more details about what Kingshay can offer, contact Kathryn on 01458 851555 or email kathryn.rowland@kingshay.co.uk.
Enclosed in your mailing:
July Newsletter
Our latest edition of the Newsletter covers:
Navigating Uncertain Times
Dairy Manager Update
State of the Art Dairy
Dairy Costings Focus Report
Choosing grass seed
Download the newsletter here.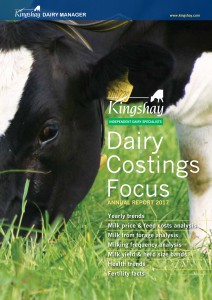 Dairy Costings Focus Report 2017

Our sixth annual report reviews milk price trends to March 2017 and ranks data by yield from forage, region, milking frequency, yield band and herd size using herd data from our Dairy Manager costings service.  The report also includes additional results from Kingshay's Health Manager service, including mastitis, fertility and cell counts.
Call us on 01458 851555