At Kingshay...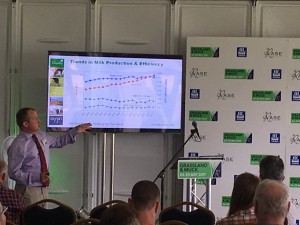 The Grassland and Muck Show was a great success.  Richard Simpson presented 'Milk from forage – realising the true value' in the Production from Grass Forums and we spoke to many members on our stand. 
The BGS Summer Meeting will be held in Shropshire from 10th to 13th July.  This is open to members and non-members and includes farm visits and the opportunity to see the grass trials at Haper Adams University.  For more details visit www.britishgrassland.com
Enclosed in your mailing:
Testing milk from cows that have undergone antibiotic treatment before reintroducing it to the tank is a belt-and-braces approach to help farmers avoid penalties from antibiotic residues and is also becoming a requirement among a growing number of milk processors.
This Farming Note covers how to avoid antibiotic residues, how do the test work and how to use them on farm.  It also includes a summary of on farm milk tests and their sensitivities to different antibiotics.
June's checklist covers:
Another good forage season - Analysis of our Dairy Manager figures
Details of how to apply for LEADER funding
How to protect yourself from on-line fraud and cyber-attacks
Mid season grazing management
Minimising heat stress
Feed, fuel and milk price trends
Call us on 01458 851555