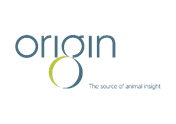 Kingshay joins the UK's leading production animal veterinary group.
Dairy specialists, Kingshay joined the growing Origin group in a private transaction on Friday 23rd October, giving further depth and breadth to the group's support of the livestock agricultural industry in the UK.
Kingshay, based at Bridge Farm, West Bradley in Somerset, specialise in providing data led practical support to farmers throughout the UK, based on unbiased information and utilising their own farm trials and investigations.
Duncan Forbes, Managing Director was delighted with the development. "Joining a group of businesses committed to UK agriculture is very important to the team at Kingshay. From the beginning in the early 1990's our founder, Martin Hutchinson, was committed to developing services that directly supported UK dairy farmers - coupled with the support of the Origin group, we will be able to ensure a wider group of producers are able to benefit from our independent advice and research".
Kingshay offer a range of services including technical notes based on their own practical farm-based research and field scale evaluations, surveys and product comparisons, comprehensive dairy herd costings, on-farm consultancy advice and training workshops. "Kingshay are renowned for the high quality of their independent advice and we plan to bring the benefits of their work to the wide range of stock under our care" said Matt Dobbs, Managing Director of the Origin group. "We will also ensure that Kingshay members have the opportunity to gain from the range of services the group can now offer, such as CHeCS accredited disease testing through our group lab, Biobest".
The Origin group includes some of the UK's leading farm animal veterinary businesses including Biobest Laboratories, Garth Pig Vets, Minster Poultry, Westpoint Farm Vets and Poultry Health Services. The group continues to be focussed on supporting UK agriculture. "By working together, the group is able to provide new investment in animal health and offer advanced services to all herd and flock keepers" concludes Matt.
For further information see www.originanimal.com or contact Jason Davies at jason.davies@westpointfarmvets.co.uk