Veterinary Membership
As a Kingshay Associate Vet Member you can benefit from our independent practical research and specialist knowledge.
Based on a commercial dairy farm in Somerset, we provide independent near market research and advice to our membership of progressive milk producers, veterinary practices and advisers across the UK.
Independent – Kingshay works with thousands of farmers across the UK and carries out its own trials, reporting the good, the bad and the ugly without bias.
Stay informed – Issued twice monthly our concise Farming Notes provide two sides of condensed practical and technical information. Written from a practical perspective with a clear focus on farm profitability.
Dairy Insight - Designed to help dairy farmers improve on-farm performance and enhance their knowledge, a condensed publication containing practical and technical information.
Business Insight - Providing information on best practice, legislation and finance, crucial for running any enterprise, large or small and ensuring a sustainable business.
Research Insight - Translating scientific research papers from around the globe into useful information and what it may mean for your dairy clients.
Keep in touch - Our monthly checklists provide timely updates on everything from on-farm practical matters to policy changes.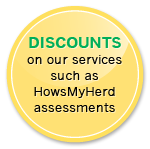 Keep up to date with Herd Health Manager (incl. Antimicrobial Report) and Dairy Manager – receive copies of your clients' herd performance reports (written permission required from each farmer).
Team approach – work with Kingshay to enhance the service to our mutual clients – further details of our full services can be found here
Telephone support - Free telephone access to our technical specialists who can provide independent practical advice and support.
Web access - Access to our members website which includes the full archive of Kingshay publications, checklists and reports.