Analysis of Kingshay's dairy costed herds service show milk prices for July 2020 to be 3% lower compared to July 2019 (27.3ppl compared to 28.1ppl last year), although recovering steadily month on month. This has resulted in margin over purchased feed per cow decreasing by 6% to £130 per cow compared to £139 in July 2019. Concentrate prices are identical at £238 per tonne for July 2020 and July 2019.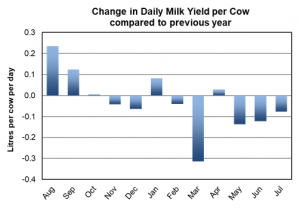 Milk yields were again similar in July 2020 at 26.0 l/cow/day. The graph highlights monthly changes to daily milk yields compared to the previous year. There has been lots of fluctuations over the course of the year with March 2020 still showing the biggest decrease in daily milk yields over the last 12 months, showing the real impact of Covid-19 on milk production in that month. The last 3 months have also been lower than their respective month last year, however that difference is reducing.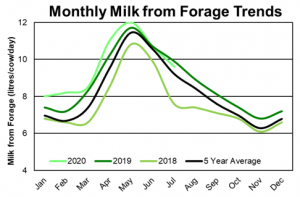 Concentrate use has stayed the same for a couple of months at 7.4kg per cow per day or 0.28kg/litre compared to July 2019. Milk from forage was down from the previous month at 9.6 l/cow/day, and down 3% from July 2019. This is the second consecutive month to be lower than last year as illustrated in the graph.
The rolling margins (MOPF) for the year ending July 2020 averaged 20.15ppl or £1,700 per cow. These were reduced from last year by 2.7%. Even though a decrease in feed costs was seen, the lower milk prices meant that the margin over purchased feed was reduced.
Other rolling trends for the year ending July 2020 include -
Average herd size increased by 1 cow place (up 0.5%) with 202 cows in herd.
Yields averaged 8,438 litres per cow, which is similar to last year.
Milk from forage increased by 5.8% to 2,791 litres per cow.
Cell counts remained low at 163 ('000), a slight increase on 159 ('000).
Milk price was lower at 28.19ppl, a slight decrease on 29.17ppl.
Purchased feed costs of 8.05ppl were 4.8% lower than last year, with concentrate prices averaging £237/tonne compared to £245/tonne.

More in-depth analysis of herds using Kingshay's costings service can be found in Kingshay's Dairy Costings Focus Report or call 01458 851555 for more details.
Analyse your Profit Manager results for the year ending March 2020 now -
Proportion costs to the Dairy Enterprise
Analyse the true costs of production for your herd
If you are interested in analysing and comparing your herd's figures with other similar herds, give us a call on 01458 851555. More details of this simple and easy-to-use service can be found HERE.