Latest analysis of herds using Kingshay's dairy costings service are continuing to show a significant increase in milk prices, up by 52% to 45.9ppl in July 2022 compared to the same month of the previous year - the highest average milk price recorded. Whilst milk prices were higher, concentrate prices per tonne also continued to increase by 30% to £351/tonne compared to July 2021. Total concentrate use stayed the same at 7.5 kg/cow/day in July 2022, however all purchased feed cost/litre rose by 32% to 10.86ppl.
Overall, the margin over purchased feed per cow was 58% higher in July 2022 at £231/cow, compared to £146/cow last year. Although this needs to cover other costs that have also risen significantly and will continue to do so, such as fuel, fertiliser and electricity costs.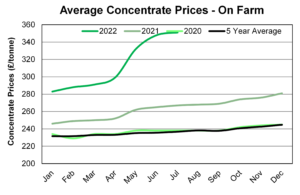 Yield per cow has continued to decrease slightly by 1% at 25.9 litres per cow/day compared to the same month last year.
Other rolling trends for the year ending July 2022 include -
Average herd stayed the same at 212 cows in herd.
Yields averaged 8,387 litres per cow, 1.7% decrease on last year.
Milk from forage decreased by 107 litres per cow to average 2,774 litres per cow.
Cell counts remained low at 160 ('000).
Milk price increased to 35.91ppl from 29.37ppl, a rise of 22.3%
Purchased feed costs of 10.08ppl were higher compared to last year with a rise of 18.3%, with annual concentrate prices averaging £294/tonne compared to £252/tonne the previous year.

More in-depth analysis of herds using Kingshay's costings service can be found in Kingshay's Dairy Costings Focus Report or call 01458 851555 for more details.
Analyse your Profit Manager results for the year ending March 2022 now -
Proportion costs to the Dairy Enterprise
Analyse the true costs of production for your herd
If you are interested in analysing and comparing your herd's figures with other similar herds, give us a call on 01458 851555. More details of this simple and easy-to-use service can be found here.