Kingshay's latest 'Tried & Tested' - Heat Detection Survey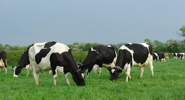 The Heat Detection Survey will evaluate heat detection methods and systems.  The survey covers visual aids and electronic fertility management systems, the aim being to get as many responses as possible on a wide range of heat detection methods.  A report will then be published for you, the membership, concluding the pros and cons of different methods based on your experience, plus an evaluation of the costs of each system.
Click here to complete our survey:  Heat Detection Survey Online Form
If you need any assistance, or would like further information, please do not hesitate to contact us.