Report Issued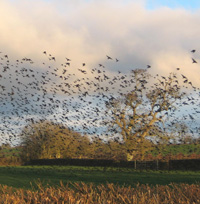 Many experts say that the UK starling population has fallen dramatically in the last 30 years. But if you are a dairy farmer in Somerset with tens of thousands of the birds on your farm every winter, you may think the experts are on another planet.
Do you know how much it is costing you in terms of lost milk production and poor feeding efficiency?
In our recent DairyCo funded study, starlings have been found to cost Somerset dairy farmers an average of 3ppl on every litre produced over the 90 day winter period when farm infestations are at their peak.  Our study set out to assess the impact of starling infestations on dairy farms around the Somerset Levels, which have in the past hosted up to 9 million overwintering starlings, but the roosts have reduced to 1-1.5 million migrants in recent years.  The aim was to assess the cost of the loss of feed from infestations and the potential effectiveness of control measures that could reduce the impact. A range of assessments were made on a number of farms including starling behavioural studies to determine why farms, particular feeds and feeding opportunities are attractive to starlings. The potential for and the cost of implementing control measures will vary but some control should be possible on all.
Despite the migrant starling population on the Levels last winter being lower than in recent years and the mild weather reducing the need for them to feed on farms, high levels of economic loss were measured.
An average cost of £96 per day per 100 cows was calculated, rising to £106 per 100 cows in 2013.  These figures included lost milk output due to loss in feed quality, and volume of feed loss.
During the second year of research (2012/13) recommendations for starling control and infestation management were determined.  The development of guidance in this second report aims to help dairy farmers to adopt strategies to reduce the costs associated with large flocks of starlings feeding on cattle rations.