The Kingshay Shop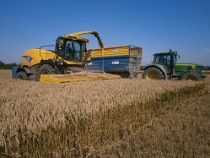 Harvesting Wholecrop Cereals Farming Note
Wholecrop cereals can provide an alternative option for winter forage and are a good substitute for maize in the ration. Choosing the optimum time to harvest will largely depend on the ration nutritional requirements and economic crop production.
This Farming Note covers:
Economics of harvest timing
Economics of feeding
How to assess the dry matter of the plant in the field
Challenges of wholecrop
Wholecrop clamp management and a table table of current market products
Issued July 2013.
About Kingshay Farming Notes
Since 1991 Kingshay has been publishing Farming Notes on issues critical to the success of a modern dairy farm business. These briefings provide dairy farmers, large animal vets, farm consultants and other interested parties with the most important and timely information in a concise two-page format. The information contained in our Farming Notes is written and updated by our experts to ensure accuracy and save you time.
A selection of Farming Notes are available to buy individually from our online shop. To gain access to all our Farming Notes become a Kingshay member.
Already a member?
Login to receive your membership discount