This new service offers farmer friendly reporting of on-farm antimicrobial purchases to help drive responsible use of medicines, highlighting critically important products. There will be monthly, quarterly or annual analysis options to identify trends based on records of antimicrobial purchases from vets.
Antimicrobial Reports include:
Antimicrobial Summary Report
Antimicrobial Purchases Report
More details of the Antimicrobial reports are shown below with examples.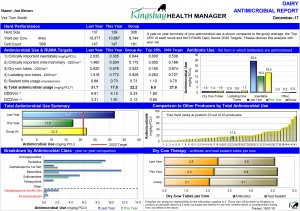 A summary of Antimicrobial purchases with details broken down by antimicrobial class.
Data compared to the group average and a target range.
Summary of how antimicrobials are administered e.g. Injectable, Lactating or Dry Cow Tubes.
Summary of Dry Cow Therapy.
A list of Antimicrobial products purchased in year, with a summary of total tubes or ml purchased.
This informs on farm discussions between the farmer & vet, based on accurate data
CIAs are highlighted in red.
Antimicrobial Monitor is also available as a stand alone service
For more information on Antimicrobial Monitoring, contact Kingshay.