Health Manager
Link herd health issues to dairy cow performance. Quarterly reports developed to allow a more targeted approach to your cow records. These reports are similar to the Premium Package but do not include all the other package reports - this is a stand alone service monitoring health.
Easy to use - figures taken from existing recording systems.
Choose online or paper/post system.
Health Manager Reports (similar to Premium Package) include:
Herd Health Summary
Mastitis Report
Fertility Report
Lameness Report
Calves, Culls & Replacements Report
Longevity Report
Farm Assurance Measures
More details of the Health Manager reports are shown below with examples. Also includes an example of the Input Form showing typical data required.
We can backdate up to 24 months of your information to give you the benefit of previous information on the reports.
Sign up today and receive the first two months FREE!
SIGN UP TO OUR HEALTH MANAGER PACKAGE
Herd Health Summary
A summary of your Fertility & Health Status highlighting herd performance and key trends.
Results benchmarked to the Group Average and Top 25%. Includes replacements costs and analysis of Vet & Med costs.
Mastitis Report
Compare your mastitis status, number of cases per 100 cows and somatic cell counts.
Track your "hidden" mastitis costs using your actual milk price and culling rates for mastitis related reasons.
Fertility Report
Compare your fertility status and monitor culls for infertility by lactation age.
Track your "hidden" fertility costs and the cost of an extended calving interval.
Lameness Report
Compare your lameness status and analyse the number of culls for lameness. Track your "hidden" lameness costs.
Option to record Mobility Scores and breakdown of Lameness cases.
Calves, Culls & Replacements Report
Track the cost of replacements brought into your herd.
Monitor calf survivability and calf income.
A quarterly report with comparisons of calf income, cow sales and replacement costs to the group.
Longevity Report
Reduce future culls by analysing why cows leave your herd. For many herds, a large proportion of cows leave in the first 3 lactations - how does your herd compare?
A quarterly report highlighting Forced and Selected Leaving Reasons, including analysis by Age.
Farm Assurance Measures
A summary of data required to comply with your Farm Assurance Audit and to help discussions with your vet.
Includes mastitis and lameness cases, calf survivability and proportion of cows leaving for forced/involuntary reasons.
Example Health Manager Input Form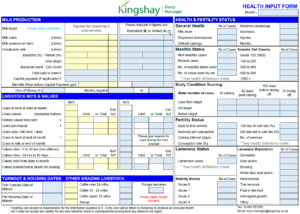 An example of the data required to complete the Health Manager package.
Key Data - Milk Performance, Cow/Calf Numbers & Values, Reasons for Cows Leaving the Herd, General Health Status, Mastitis Status, Fertility Status, Lameness Status, Vet & Med Costs
Optional Data - Stocking Rate (Other Grazing Livestock and Forage Area), Mobility Scores, Lameness Breakdown