Regular Package
Detailed Performance & Management reports including herd longevity & replacement rates.
All of the Starter Package Reports plus...
Milk Predictor Report
Calves, Culls & Replacements Report
Longevity Report
Annual Feed Summary
Feed & Forage Report
Cow Leaving Reasons Check
More details of the Regular Package reports are shown below with examples. Also includes an example of the Input Form showing typical data required.
We can backdate up to 24 months of your information to give you the benefit of previous information on the reports.
Sign up today and receive the first two months FREE!
SIGN UP TO OUR REGULAR PACKAGE
Milk Predictor Report
Forecast production and monitor your progress month by month.
A monthly report comparing milk production against forecasted figures. We can produce a milk prediction for your herd based on future calvings.
Calves, Culls & Replacements Report
Track the cost of replacements brought into your herd.
Monitor calf survivability and calf income.
A quarterly report with comparisons of calf income, cow sales and replacement costs to the group.

Longevity Report
Reduce future culls by analysing why cows leave your herd. For many herds, a large proportion of cows leave in the first 3 lactations - how does your herd compare?
A quarterly report highlighting Forced and Selected Leaving Reasons, including analysis by Age.
Annual Feed Summary
Compare your costs of purchased feeds to other herds in your region. Are you paying too much for your purchased feeds?
An annual report analysing & comparing feeds fed in the last 12 months.
Cow Leaving Reasons Check
A 12 month summary of data entered on reasons for cows leaving the herd.
Feed and Forage Reports
A comprehensive analysis of Feed & Forage Utilisation and Costs over the last 12 months, including an estimate of grazing intakes (if applicable).
A quarterly report with details of Margin over Feed & Forage, with comparisons month on month and year on year.
Example Regular Input Form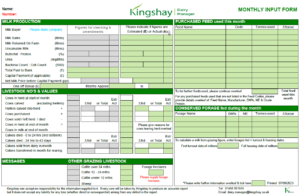 Key Data - Milk Performance, Cow/Calf Numbers & Values, Purchased Feed Use, Reasons for Cows Leaving the Herd
Optional Data - Milk from Grazing Calculation (Conserved Forage Use and Turnout & Housing Dates), Stocking Rate (Other Grazing Livestock and Forage Area), Fertiliser Use