Premium Package (Health)
Quarterly health reports linking health issues to cow performance & herd profitability. Unique comparison reports summarising health issues and calculating the hidden costs associated with Mastitis, Fertility and Lameness for your herd.
All of the Starter & Regular Reports plus...
Herd Health Summary
Mastitis Report
Fertility Report
Lameness Report
Farm Assurance Measures
Health Data Check
More details of the Premium Package reports are shown below with examples. Also includes an example of the Input Form showing typical data required.
We can backdate up to 24 months of your information to give you the benefit of previous information on the reports.
Sign up today and receive the first two months FREE!
SIGN UP TO OUR PREMIUM PACKAGE
Herd Health Summary
A summary of your Fertility & Health Status highlighting herd performance and key trends.
Results benchmarked to the Group Average and Top 25%. Includes replacements costs and analysis of Vet & Med costs.
Mastitis Report
Compare your mastitis status, number of cases per 100 cows and somatic cell counts.
Track your "hidden" mastitis costs.
Fertility Report
Compare your fertility status and monitor culls for infertility by lactation age.
Track your "hidden" fertility costs and the cost of an extended calving interval.
Lameness Report
Compare your lameness status and analyse the number of culls for lameness. Track your "hidden" lameness costs.
Option to record Mobility Scores and breakdown of Lameness cases.
Farm Assurance Measures
A summary of data required to comply with your Farm Assurance Audit.
Includes mastitis and lameness cases, calf survivability and proportion of cows leaving for forced/involuntary reasons.
Health Data Check
A 12 month summary of data entered for the Health package.
Includes General Health Issues, Mastitis and Lameness data, fertility data and Vet & Med and AI costs.
Example Premium Input Form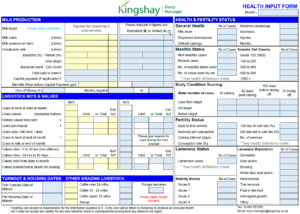 An example of the data required to complete the Premium package.
Key Data - Milk Performance, Cow/Calf Numbers & Values, Purchased Feed Use, Reasons for Cows Leaving the Herd, General Health Status, Mastitis Status, Fertility Status, Lameness Status, Vet & Med Costs
Optional Data - Milk from Grazing Calculation (Conserved Forage Use and Turnout & Housing Dates), Stocking Rate (Other Grazing Livestock and Forage Area)