Premium Plus Package (Profit)
Analyse your costs of dairy production quarterly, 6 monthly or annually and benchmark your herd against the Kingshay group average.
All of the Starter, Regular and Premium Reports plus...
Financial Summary Report
Output & Variable Costs Report
Overhead Costs Report
More details of the Premium Plus Package reports are shown below with examples. Also includes an example of the Input Forms showing typical data required.
We can backdate 12 or 24 months of your information to give you the benefit of previous information on the reports.
Suited to all types of farm - specialist dairy or mixed. Developed to identify costs of production under any milking system.
Sign up today and receive the first two months FREE!
SIGN UP TO OUR PREMIUM PLUS PACKAGE
Financial Summary Report

(Incl. Management comments)
Quarterly report detailing all income and production costs for your herd. Easy to complete forms enabling comparison to other progressive herds.
Shows all costs in total £, pence per litre, £ per cow or £ per hectare. Uses figures from year end accounts.
Output & Variable Costs Report
Quarterly report outlining key income figures and variable cost expenditure with comparisons to the group average.
Overhead Costs Report
Quarterly report with overhead costs for dairy enterprise. Overhead costs for mixed farming enterprises are easily split out using our unique computer model.
Family labour costs are also calculated and compared.
Example Premium Plus Input Form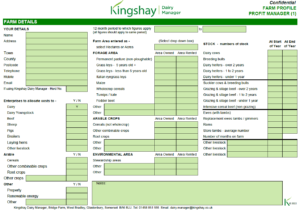 An example of the data required quarterly to complete the Premium Plus package.
Key Data - Stock Numbers, Forage/Arable Area, Farm Labour Details, Other Income, Variable Costs, Overhead Costs
Also requires the monthly data from the Regular or Premium Input Form (e.g. Milk Production, Cow/Calf Numbers & Values and Purchased Feed Use).
Kingshay's 4 steps to better cost control
Step 1
Where am I now?
Calculate the full costs of milk production for your dairy herd(s), even on a mixed farm.
Step 2
Where do I want to be?
Compare your costs to other progressive herds. Identify your strengths and weaknesses.
Step 3
How do I get there?
Prioritise areas for action and make the changes.
Step 4
Have I arrived?
Quarterly updates help you to monitor and adjust.