The Kingshay Shop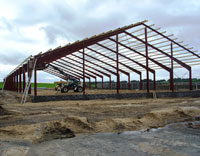 Sourcing Borrowing Farming Note
Finance costs account for 0.6ppl or £43 per cow of total farm costs, according to results from herds using Kingshay Full Costs service (ranging from virtually nothing to 2.9ppl). Reinvestment is vital for a thriving business. A large proportion of farm infrastructure was installed in the 70's and 80's and needs replacing. With today's milk price, room for reinvestment is limited so it is important to secure borrowing from the most cost effective source. This Farming Note evaluates the options for borrowing.
Issued April 2007.
This Farming Note is only available to members
About Kingshay Farming Notes
Since 1991 Kingshay has been publishing Farming Notes on issues critical to the success of a modern dairy farm business. These briefings provide dairy farmers, large animal vets, farm consultants and other interested parties with the most important and timely information in a concise two-page format. The information contained in our Farming Notes is written and updated by our experts to ensure accuracy and save you time.
 A selection of Farming Notes are available to buy individually from our online shop. To gain access to all our Farming Notes become a Kingshay member.
Already a member?
Login to receive your membership discount