The Kingshay Shop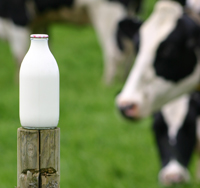 A2 Milk Farming Note
Most herds produce milk containing two types of beta casein, A1 and A2, however there is a small minority who are intolerant to the A1 protein. A2 milk is produced by cows genetically selected to only produce the A2 milk protein and this niche product has become popular in New Zealand and increasingly Australia, where it currently accounts for 6% of the market. In recent years there has been a push to retail A2 milk products in the UK, which has been led by Muller Wiseman Dairies.
This Farming Note covers:
The concept of A2 milk
The A2 milk target market
How to breed A2 milk into your herd
Deciding if A2 conversion is right for your farm
Issued April 2013.
About Kingshay Farming Notes
Since 1991 Kingshay has been publishing Farming Notes on issues critical to the success of a modern dairy farm business. These briefings provide dairy farmers, large animal vets, farm consultants and other interested parties with the most important and timely information in a concise two-page format. The information contained in our Farming Notes is written and updated by our experts to ensure accuracy and save you time.
A selection of Farming Notes are available to buy individually from our online shop. To gain access to all our Farming Notes become a Kingshay member.
Already a member?
Login to receive your membership discount
You may also like…
Milk Protein Farming Note

Milk protein often has greater financial benefits than butte...

Members: FREE

Non-members: £12.50

Butterfat Farming Note

The financial incentive for butterfat levels is highly varia...

Members: FREE

Non-members: £12.50