The Kingshay Shop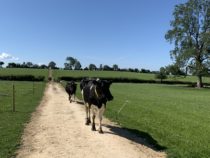 Animal Health & Welfare Pathway
The AHWP is part of the Sustainable Farming Incentive (SFI), it can be as a stand-alone application or can sit alongside the Environmental Land Management Standards (ELMS).
The first step includes a veterinary visit / review, where you can discuss any topic that you feel would be beneficial to you and your business. Part of the first visit for cattle MUST include testing for Bovine Viral Diarrhoea (BVD).
The aim of the visit and any outcomes is to reduce endemic disease, improve welfare, increase productivity and to ensure vet meds are being used to get maximum efficacy and reduce antimicrobial resistance.
It is not an audit and should not be used replace a farm assurance visit. This is an opportunity for you and your vet to 'think outside the box'.
Issued 30th March 2023
About Kingshay insight publications
Kingshay has been producing bi-monthly publications for dairy farmers since 1991. Publishing on issues critical to the success of a modern dairy farming business.
These briefings include dairy insight, business insight and research insight, they provide dairy farmers, large animal vets, farm consultants and other interested parties with the most vital and timely information in a concise two-page format. The information contained in our insight publications is written and updated by our experts to ensure accuracy and to save you time.
A selection of insight publications and Farming Notes are available to buy individually from our online shop. To gain access to all our publications become a Kingshay member.
Already a member?
Login to receive your membership discount