The Kingshay Shop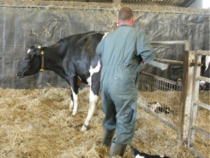 Assisted Calving
For a heifer or cow to reach their full production potential, a good calving is essential. They are less likely to suffer from problems post calving such as metritis, ketosis and displaced abomasum, as well as returning to heat and getting back in calf more quickly.
For staff, a good calving is a positive experience and impacts less on precious time, as there are fewer consequences such as weak calves and sick cows to deal with. This dairy insight explores difficult calvings and when and how to assist.
Issued 17th August 2022
About Kingshay insight publications
Kingshay has been producing bi-monthly publications for dairy farmers since 1991. Publishing on issues critical to the success of a modern dairy farming business.
These briefings include dairy insight, business insight and research insight, they provide dairy farmers, large animal vets, farm consultants and other interested parties with the most vital and timely information in a concise two-page format. The information contained in our insight publications is written and updated by our experts to ensure accuracy and to save you time.
A selection of insight publications and Farming Notes are available to buy individually from our online shop. To gain access to all our publications become a Kingshay member.
Already a member?
Login to receive your membership discount
You may also like…
Post Calving Management

Careful monitoring of the performance and health of freshly ...

Members: FREE

Non-members: £15.00

Fine Tuning at Calving

One of the most difficult times for dairy cattle is the tran

Members: FREE

Non-members: £15.00