The Kingshay Shop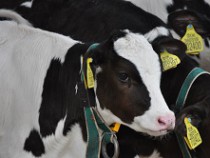 Black & White Bull Calves Farming Note
Figures suggest that just under 100,000 of the estimated 470,900 black and white bull calves born in the UK in 2011 were killed on site or not registered, due to poor calf prices and high feed costs. A push by the industry to reduce this occurring has led to the creation of several contracts specifically as an outlet for dairy bulls, and these supply both the beef and rose veal markets. Careful selection of diets is also possible, enabling you to rear your own black and white bull calves through to slaughter. 
This Farming Note covers:
Current outlets for your dairy bulls
Maximising calf sale price
Production cost comparison for different beef rearing systems 
Veal production in the UK
Issued January 2013.
About Kingshay Farming Notes
Since 1991 Kingshay has been publishing Farming Notes on issues critical to the success of a modern dairy farm business. These briefings provide dairy farmers, large animal vets, farm consultants and other interested parties with the most important and timely information in a concise two-page format. The information contained in our Farming Notes is written and updated by our experts to ensure accuracy and save you time.
A selection of Farming Notes are available to buy individually from our online shop. To gain access to all our Farming Notes become a Kingshay member.
Already a member?
Login to receive your membership discount