The Kingshay Shop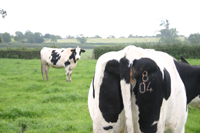 Body Condition Score
Body Condition Scoring (BCS) is a simple and effective farm management tool. It is a measure of body fat/energy reserves, that can be used to aid decisions or troubleshoot issues as they arise. The fine tuning of nutrition throughout the lactation and dry period improves the overall nutritional status of the herd, leading to improved health, milk production and reproduction. These are all factors that will impact on farm profitability.
Along with this Note is a guidance sheet on 'How to Body Condition Score' and a BCS Record Sheet.
Issued September 2017
About Kingshay Farming Notes
Since 1991 Kingshay has been publishing Farming Notes on issues critical to the success of a modern dairy farm business. These briefings provide dairy farmers, large animal vets, farm consultants and other interested parties with the most important and timely information in a concise two-page format. The information contained in our Farming Notes is written and updated by our experts to ensure accuracy and save you time.
A selection of Farming Notes are available to buy individually from our online shop. To gain access to all our Farming Notes become a Kingshay member
Already a member?
Login to receive your membership discount