The Kingshay Shop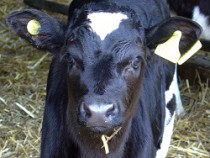 Calf Weaning
Traditional calf feeding practice limits milk fed to encourage early intakes of concentrates and promote earlier weaning, to cut feed costs and labour. Recent research however has shown that feeding higher volumes of milk can boost lifetime productivity, but this can make weaning more difficult. This Farming Note discusses how different calf feeding approaches can manage the weaning period successfully and overcome any issues.
This Farming Note looks at:
Rumen development
Deciding when to wean
Weaning off higher milk input systems
How to transition the calf off its milk
Issued July 2015
About Kingshay Farming Notes
Since 1991 Kingshay has been publishing Farming Notes on issues critical to the success of a modern dairy farm business. These briefings provide dairy farmers, large animal vets, farm consultants and other interested parties with the most important and timely information in a concise two-page format. The information contained in our Farming Notes is written and updated by our experts to ensure accuracy and save you time.
A selection of Farming Notes are available to buy individually from our online shop. To gain access to all our Farming Notes become a Kingshay member
Already a member?
Login to receive your membership discount