The Kingshay Shop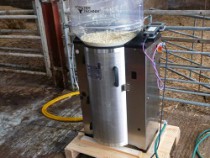 Computerised Calf Feeders Farming Note
Computerised calf feeding machines are an increasingly popular option for calf management. A number of advantages potentially make this a cost effective feeding method, the most significant being the big reduction in labour required, however there are several potential weaknesses associated with such a system.
This Farming Note covers:
A Bridge Farm case study of using a computerised calf feeder
Advantages and disadvantages of using such a system
The models available on the current market
Issued December 2012.
About Kingshay Farming Notes
Since 1991 Kingshay has been publishing Farming Notes on issues critical to the success of a modern dairy farm business. These briefings provide dairy farmers, large animal vets, farm consultants and other interested parties with the most important and timely information in a concise two-page format. The information contained in our Farming Notes is written and updated by our experts to ensure accuracy and save you time.
A selection of Farming Notes are available to buy individually from our online shop. To gain access to all our Farming Notes become a Kingshay member.
Already a member?
Login to receive your membership discount