The Kingshay Shop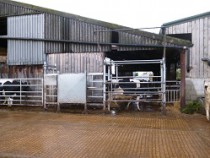 Cow Grouping Farming Note
Cow grouping is a useful management tool, particularly in larger herds, which allows the requirements of each individual cow to be more easily met. Deciding if your herd should be split into smaller groups will involve weighing up the benefits against the extra effort involved. The most effective cow management group comes down to what will work on your farm, taking account of cow performance levels, labour availability, space, facilities etc.
This 2 part Farming Note covers:
Reasons for cow grouping
Management group options
Key building design considerations
Minimising cow stress
Issued March and April 2012.
About Kingshay Farming Notes
Since 1991 Kingshay has been publishing Farming Notes on issues critical to the success of a modern dairy farm business. These briefings provide dairy farmers, large animal vets, farm consultants and other interested parties with the most important and timely information in a concise two-page format. The information contained in our Farming Notes is written and updated by our experts to ensure accuracy and save you time.
A selection of Farming Notes are available to buy individually from our online shop. To gain access to all our Farming Notes become a Kingshay member.
Already a member?
Login to receive your membership discount