The Kingshay Shop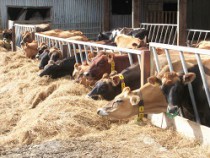 Displaced Abomasum Farming Note
A displaced abomasum or "twisted stomach" is associated with freshly calved cows or as a secondary event when another condition has caused reduced feed intake. Displaced abomasums usually require expensive veterinary attention and also result in lost milk production, a longer period before conception and reduced herd life. This can seriously reduce farm profitability, particularly if the incidence of DAs is high.
This Farming Note covers:
Prevalence of displaced abomasum in UK herds
Clinical signs of the condition
Causes
Preventing a displaced abomasum occuring
Issued June 2011.
About Kingshay Farming Notes
Since 1991 Kingshay has been publishing Farming Notes on issues critical to the success of a modern dairy farm business. These briefings provide dairy farmers, large animal vets, farm consultants and other interested parties with the most important and timely information in a concise two-page format. The information contained in our Farming Notes is written and updated by our experts to ensure accuracy and save you time.
A selection of Farming Notes are available to buy individually from our online shop. To gain access to all our Farming Notes become a Kingshay member.
Already a member?
Login to receive your membership discount
You may also like…
Mycoplasma Farming Note

Mycoplasma is a bacterial infection and a major cause of cal...

Members: FREE

Non-members: £15.00