The Kingshay Shop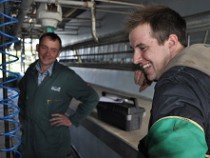 Employing People – Employment Law
In our recent Sourcing Labour Farming Note, we discussed where and how to look for good quality staff. Employment Law addresses the next stage in the process - the red tape and legalities you need to be aware of as an employer. This Farming Note covers:
Employment contracts
Working Time Regulations
Money matters
Parental rights
Sick leave
Issued April 2015.
About Kingshay Farming Notes
Since 1991 Kingshay has been publishing Farming Notes on issues critical to the success of a modern dairy farm business. These briefings provide dairy farmers, large animal vets, farm consultants and other interested parties with the most important and timely information in a concise two-page format. The information contained in our Farming Notes is written and updated by our experts to ensure accuracy and save you time.
A selection of Farming Notes are available to buy individually from our online shop. To gain access to all our Farming Notes become a Kingshay member.
Already a member?
Login to receive your membership discount