The Kingshay Shop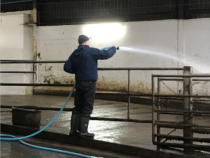 Farm Protocols
A successful dairy farming business strives for outstanding performance and this can be achieved through consistent and accurate work practices. Maintaining standards across all members of staff in some instances can be a challenge. Whilst most staff members unsurprisingly want to do a good job, the provision of protocols provides clear direction and can help communication across the team.
This dairy insight looks at how managers can use protocols or Standard Operating Procedures (SOPs), as part of their management toolbox, alongside effective training and performance reviews, to achieve targets and motivated workers.
Issued January 2020.
About Kingshay insight publications
insight publications replace the Farming Notes which have been produced by Kingshay since 1991, publishing on issues critical to the success of a modern dairy farm business. These briefings which now include dairy insight, business insight and research insight, provide dairy farmers, large animal vets, farm consultants and other interested parties with the most important and timely information in a concise two-page format. The information contained in our insight publications is written and updated by our experts to ensure accuracy and save you time.
A selection of insight publications and Farming Notes are available to buy individually from our online shop. To gain access to all our publications become a Kingshay member.
Already a member?
Login to receive your membership discount