The Kingshay Shop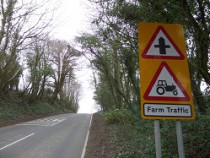 Farm Vehicles: The Code of the Road Farming Note
The laws on farm vehicles can be a bit of a minefield and many farmers may not even realise that they are breaking them. 
Should I be using red or white diesel? Do I need a Driver CPC? The answers are all here in black and white along with notes on all the other key rules and regs to help you check that you are up to speed and on the right side of the law.
This 2-part Farming Note covers:
Livestock hauling
The Driver CPC qualification
Dangerous goods
Red or white diesel
A crib sheet featuring 'are your vehicles fit for purpose?' and 'driving ages and licences'
Issued March 2014.
About Kingshay Farming Notes
Since 1991 Kingshay has been publishing Farming Notes on issues critical to the success of a modern dairy farm business. These briefings provide dairy farmers, large animal vets, farm consultants and other interested parties with the most important and timely information in a concise two-page format. The information contained in our Farming Notes is written and updated by our experts to ensure accuracy and save you time.
A selection of Farming Notes are available to buy individually from our online shop. To gain access to all our Farming Notes become a Kingshay member.
Already a member?
Login to receive your membership discount