The Kingshay Shop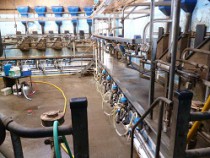 Getting The Most From Your Parlour Chemicals
Expanding dairy export markets and increasing consumer interest means processors are tightening up on milk quality standards, which means an effective parlour circulation cleaning routine is more important than ever.
This dairy insight looks at getting the most from your parlour chemicals:
Why is a circulation clean so important?
Achieving the optimum CIP
How to choose an acid or alkali
Storage and Handling
Changing Biocide Regulations
Issued September 2018
About Kingshay insight publications
insight publications replace the Farming Notes which have been produced by Kingshay since 1991, publishing on issues critical to the success of a modern dairy farm business. These briefings which now include dairy insight, business insight and research insight, provide dairy farmers, large animal vets, farm consultants and other interested parties with the most important and timely information in a concise two-page format. The information contained in our insight publications is written and updated by our experts to ensure accuracy and save you time.
A selection of insight publications and Farming Notes are available to buy individually from our online shop. To gain access to all our publications become a Kingshay member.
Already a member?
Login to receive your membership discount
You may also like…
Calf Housing Farming Note

It is estimated that more than 6% of calves die before they

Members: FREE

Non-members: £15.00

Cow Brushes

Cow brushes not only help to fulfil the cow's natural desi...

Members: FREE

Non-members: £15.00