The Kingshay Shop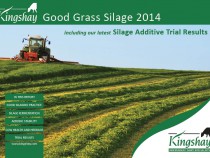 Good Grass Silage 2014
Our 'Good Grass Silage 2014' report aims to remove some of the bias from this bewildering area. Featuring the results of last year's Kingshay grass silage additive trial, we seek to provide some independent input as you decide if an additive would be beneficial to you.
This Report is only available to members
Issued February 2014
Already a member?
Login to receive your membership discount