The Kingshay Shop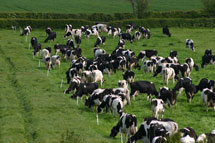 Grazed Grass (Setting up to Succeed) Farming Note
Grazed grass is a very cheap feed, typically with an ME of 11.5-12 and crude protein of 16-20%. Many herd owners and managers underestimate the value of grass and its use is limited by the perception that it is difficult to manage cows at grass, especially in higher yielding herds. This need not be the case however.
This Farming Note covers:
The benefits of grazed grass
The challenges of grazed grass
Grass allowance
Early turn out
Selecting the right grazing system
Reducing the hassle factor
Issued February 2007.
This Farming Note is only available to members
About Kingshay Farming Notes
Since 1991 Kingshay has been publishing Farming Notes on issues critical to the success of a modern dairy farm business. These briefings provide dairy farmers, large animal vets, farm consultants and other interested parties with the most important and timely information in a concise two-page format. The information contained in our Farming Notes is written and updated by our experts to ensure accuracy and save you time.
A selection of Farming Notes are available to buy individually from our online shop. To gain access to all our Farming Notes become a Kingshay member.
Already a member?
Login to receive your membership discount