The Kingshay Shop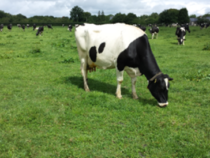 Grazing – Dealing with Hot Weather and Drought
The UK does not often experience the hot temperatures faced this season, the duration of the heat and lack of rain is almost unprecedented. However, it is likely that with climate change, we will encounter these conditions more frequently, as extreme weather events are projected to become more intense and more regular. Adjusting our farming systems in both the short and long term will be necessary. So, what additional considerations need to be taken into account to deal with hot weather and drought? This dairy insight looks at the effect of hot weather and drought on dairy grazing systems and explores ways farmers can increase their resilience to hot dry weather.
Issued 17th August 2022
About Kingshay insight publications
Kingshay has been producing bi-monthly publications for dairy farmers since 1991. Publishing on issues critical to the success of a modern dairy farming business.
These briefings include dairy insight, business insight and research insight, they provide dairy farmers, large animal vets, farm consultants and other interested parties with the most vital and timely information in a concise two-page format. The information contained in our insight publications is written and updated by our experts to ensure accuracy and to save you time.
A selection of insight publications and Farming Notes are available to buy individually from our online shop. To gain access to all our publications become a Kingshay member.
Already a member?
Login to receive your membership discount