The Kingshay Shop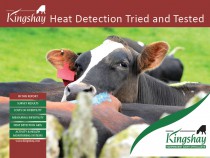 Heat Detection Tried & Tested Report
featuring results from the Heat Detection Survey
There are numerous and varied products sold in the UK claiming to increase heat detection rates in bulling cows, from tail paint to sophisticated multifunctional accelerometers. Kingshay's Heat Detection Tried and Tested Report details the different products on the market and includes ratings and comments from the farmers who have used them.
Each heat detection aid is rated on:
Ease of use
Ease of interpretation
Ease of staff training
Accuracy
Reliability of equipment
Value for money
Issued October 2014
Already a member?
Login to receive your membership discount